LOGO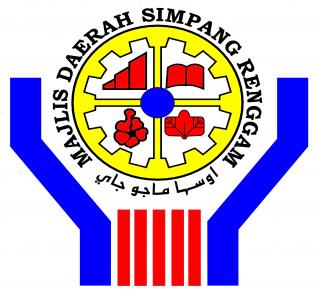 Simpang Renggam District Council Logo
Shape of the logo is based on a combination of Geometric diagrams which prioritizes on the 'strengths and values' in symbolizing
Stability
Efficiency
Performance
Hibiscus — The Hibiscus or Malaysian National Flower symbolizes the National Solidarity. This flower is a symbol of harmony.
Book — A symbol of an effective administration. A book is a base for knowledge, solidarity, legislation, and etc which is the key to an administration which is effective.
Five Uniformed Lines — Symbolizes democracy and from the parallel line arrangement perspective, it symbolizes fairness.
Building Diagram — Symbolizes a housing, business and entrepreneurship development
Diagram showing Expansion of Two Leaf Petals — Symbolizes a healthy social growth towards achieving ambitions for cleanliness, city beautification and its surroundings for the benefit of everyone
Gear Symbol — A symbol of technology. It defines everything which is planned is based on technological standpoints
Circle which Consists of Diagrams — Symbolizes the Simpang Renggam District Council function which possesses a financial and expenditure autonomy for the purpose of expanding and improving the citizens' socio-economy standards
Two stripes on the Left and Right — Defines the Simpang Renggam District Council administration and management from time to time which is constantly prepared to serve the nation and citizens
The Slogan: 'Usaha Maju Jaya' — This slogan is taken from the abbreviations of Simpang Renggam District Council functions to clarify the implemented efforts from the meaning displayed above
Colours — The Johor State identity is represented with the colours available from the Johor State